About Lizzie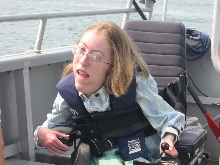 Hi there! I have Congenital Muscular Dystrophy. My older sister Alexandra also has CMD. I also have an older brother, George who is married and lives nearby.
I live with my parents and my sister on a smallholding in Sidlesham. We have 3 dogs, 6 cats, a goldfish, 4 ponies, pigs, sheep, geese, ducks, guinea fowl and chickens who all keep us entertained.
I joined the Wellspring committee in 1999 when I was in year 10 at Manhood Community College. While I was at Chichester College doing my A levels, I became the editor of Wellspring. I also write a page in each edition of the newsletter about my thoughts and experiences. To read my latest article, click here.
I completed my BA(Hons) Childhood Studies: Early Years at University College Chichester in 2005, and now I work part time as a teaching assistant at a local primary school, doing booster literacy work with the children in the junior classes.
I run a craft club for children aged 4 to 11 on Saturdays from the art studio in my garden (see articles below) and have also run workshops for the Aiming High for Disabled Children project (see Creative Heads articles).
I am extremely pleased to announce that Wellspring has been given funding by The Alchemy Foundation which is enabling me to offer FREE PLACES to children with disabilities and special needs and/or their brothers and sisters at my club. If you would like to know more about the club and would like to book places, please visit my website and contact me.
Please email me if you would like to contribute anything to the newsletter. We really appreciate hearing from our readers.
Here are my previous articles (click to view):
Lizzie's Craft Club + Creative Heads - 2011
Lizzie's Thoughts on Sports - 2011
Lizzie's Summer Holidays - 2010
The World of Work -Young People's Edition 2009
Lizzie's School Lunches - 2008
Caring About Carers - Young People's Edition 2008
Lizzie's Summer Outings - 2007
Disability Out and About - 2006
Moving on to University - Young People's Edition 2006
Lizzie's French Adventure - 2005
What Makes a Good Helper? - Young People's Edition 2005
Argus Achievement Awards - 2004
Lizzie's Hospital Experience - 2003
Out of School Activities - 2003
Reflecting on my Education - 2003
School to College - November 2000
My first article for Wellspring - September 1999